Description
JAF Studio  Pcs/Set Makup Brushes Premiuim Natural Hair of Goat & Pony Horse Super Soft Makeup Brush Tool Set J01PY-B for sale in Pakistan, Free home delivery in Lahore, Karachi, Islamabad and all other cities of Pakistan.
Name: -PCS Cosmetic Make Up Brush Set
Item #: J01PY_B
Bristle: Goat hair + Pony Hair
Ferrule/Barrel: Aluminum
Handles: Wood
Pouch: PVC Pouch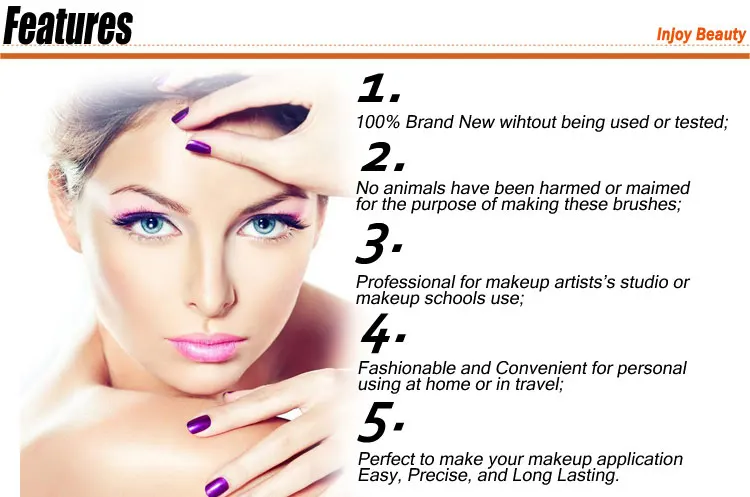 JAF Brand Makup Brushes Premiuim Natural Hair of Goat Pony Horse Super Soft Makeup Brush Tool Set J01PY-B – JAF Studio free home delivery in Pakistan and cash on delivery in Pakistan. Buy products from PkBrand Pakistan.
Cosmetics brushes in Pakistan: They're the bedrock of your cosmetics routine — unless you're one of the capable couple of that can put your makeup on with simply your fingers. We attempt our best to take great care of them, since they take great care of us. In any case, all things considered, some carry out the occupation somewhat superior to others.
Ahead, we round up the best cosmetics brushes that hold a critical place in our souls — and cosmetics packs. From the ultra-luxury to at little to no cost scores, there's something for each normal, each value point, and everyone. Navigate and connect with your new most loved swarms. PKBrand.com sale on branded products imported products from AliExpress, eBay, Amazon and pkbrand have on imported products prom USA, UK and china.
In case you're occupied with building a unit with veggie lover brushes, it can be hard to know which brushes will give you superior and have the correct adjust of non-abrasiveness, thickness and shape. We conversed with David Klasfeld, CEO and Creative Director of Obsessive Compulsive Cosmetics, to get the lowdown on the advantages of veggie lover brushes, how to watch over them, and why they'd be an awesome expansion to your cosmetics pack.
Fanatical Compulsive Cosmetics #011 Small Powder/Blush Brush for sale in Pakistan.
PkBrnad.com import branded products in Pakistan.
Q: What are engineered cosmetics brushes made of?
Engineered brushes are generally produced using either Taklon, Nylon or on account of OCC's brushes, a mix. Taklon is utilized when a milder brush surface is required, say for a become flushed or powder brush, though Nylon is utilized when a firmer surface is required as on account of a conventional establishment or concealer brush. At the point when the filaments are mixed together, you can defeat both universes for your proposed reason. For instance, our #011 Small Powder Brush is additionally sufficiently firm to get the perfect measure of our Crème Colors for a become flushed application, yet sufficiently delicate to then mix it effortlessly.
Q: How would it be a good idea for one to administer to their engineered brushes?
In a perfect world, any brush ought to be completely cleaned with a tender fluid antibacterial cleanser or a delicate "illuminating" cleanser. Anything that includes dampness or molding operators ought to be stayed away from. The brushes ought to then be laid level to dry with the goal that water remains out of the brush ferrule and counteracts harm to the fiber. Brush Cleaner can work in a stick, yet it's truly what might as well be called mouthwash, where washing them resembles brushing your teeth.
Q: What settles on them a decent decision for a cosmetics unit?
Engineered brushes are perfect for a working craftsman's pack since they are less demanding to clean and disinfect amongst customers, and will last longer than creature hair brushes. They are likewise actually more clean than creature hair brushes, which are more permeable and along these lines more prone to gather bacterial and microbial development.
Q: Are they better to use on individuals with touchy skin?
Totally, engineered swarms are actually hypoallergenic, while some creature hair abound can bring about unfavorably susceptible responses or contact dermatitis, which I would say has been in fact uncommon, yet worth maintaining a strategic distance from when the option is similarly as successful.
Q: Any different tips about vegetarian brushes that you'd jump at the chance to share?
Engineered brushes are just the cleaner, greener way to deal with cosmetics creativity. They bear the cost of you with all the application advantages of normal hair, without being to the detriment of a creature and your own pocket.